TEACH THE GROOVAROO™ WAY
ENROLLMENT IS NOW OPEN FOR 2020!
Europe/Asia/Australia Start Date: : Wednesday, January 29th
North America/South America Start Date: Monday, February 3rd
How does it work? Register for our 2020 Sessions and you will be guided through the program by a Teacher Mentor.
Program includes:
~ Comprehensive Online Training (see program options below)
~ Ongoing online support from your GroovaRoo Teacher Mentor and fellow Trainees
~ Weekly Office Hours with your GroovaRoo Teacher Mentor
~ Weekly Live Updates from Founders, Amber & Meeshi
***2020 NEW YEARS SPECIAL***
Enroll in a 2020 Teacher Training Session by JANUARY 31st and get: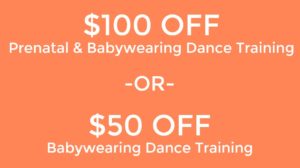 Choose between our 3 Online Teacher Trainings:
 The Whole Package: Prenatal & Babywearing Dance 
Are you a strong advocate for bonding in the First 1000 Days of Life? Do you want to bring new families together in community through dance? Then you are ready for the whole package! Join us for our in-depth 8-Week Prenatal & Babywearing Dance Teacher Training. We start from the beginning, from conception, exploring how families can dance with their babies through the first 2 years of life. Help us to bring the mission of GroovaRoo around the world!
Most Popular: Babywearing Dance
Are you passionate about bringing GroovaRoo Babywearing Dance to your community? Then this training is for you! In this comprehensive 6-week program, you will dive deep to understand how babywearing dance can create stronger bonds between caregivers and their babies, and beyond.
Brand New: Prenatal Dance
Completed our Babywearing Dance Training and ready to expand your clientele? In our Prenatal Dance Training, you will explore how dancing prenatally can have tremendous benefits for both a mother and her growing baby including: raising oxytocin levels, preparing the mother's body for birth, and forming strong bonds from the very beginning.
To learn more about our training programs, fill out our application below!